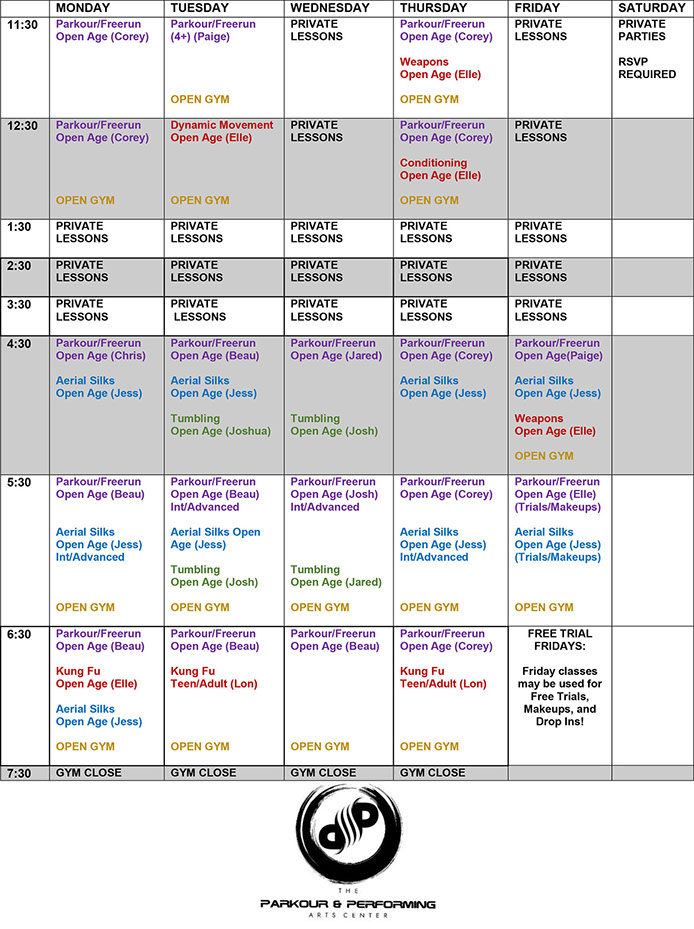 PRICING
(Click on the Package Below to Sign up)
Drop In Class
Drop in class at any time, as long as space is available.
Free Trial Class
Tribe Membership
First Class is Free! Sign up Now
Access all tribe classes and Unlimited Open Gym during Open Gym Hours
Private Lessons
Click to Register for a free consultation for Private Lessons
1 class per week, 4 classes per month
2 classes per week, 8 classes per month
3 classes per week, 12 classes per month
Unlimited classes for a month,
for One Person
Unlimited classes for a month,
for Two People
Unlimited classes for a month,
for Three People
Unlimited classes for a month,
for Four People
Family members are discounted based on number of classes being attended. Once a Week is discounted at 5.0 per family member, Twice a week is discounted at 10.0 per familiy member, Three times a week is discounted at 20.0 per family member, and Four or more times a week at 30.0 per family member. Visit the front desk to sign up for family discounts!
Birthdays, Events & Overnighters
Have your Epic Birthday at Free Flow Academy!
Birthday Parties are 1.5 hours: 1 hour of parkour/games/instruction, 0.5 hours of free time, cake time. The event times can be scheduled Friday & Saturday at 10:30-12:00, 12:30-2:00, 2:30-4:00, 4:30-6:00, and 6:30-8:00. (Sunday's require a $60 extra charge.)
Birthdays and Events are 180.0 for up to 12 kids or 250.0 for up to 20 kids. Add just $5.0 per child after 20, no maximum, just as long as you let us know an estimate of how many kids to expect one week from the party so we can make sure to have enough of our trained professionals at your party!
You are welcome to bring any decorations, table cloths, food & cake you desire, we have no restrictions. We recommend participants bring a cooler for cold drinks or ice cream.
We require a 50.0 deposit to reserve a birthday slot which goes towards the cost of the party.
Free Flow Academy also offers Overnighters!
Fridays or Saturdays, drop off is at 8:30pm and pick up is at 8:30am the next morning.
Overnighters are 300.0 for up to 12 kids, add just $15.0 per child after that. A 50.0 deposit is required to reserve the date for overnighters, which goes towards the cost of the event.
Our trainers take care of the entire thing, with parkour/ninja games, training and use of the entire gym for all participants through the night.
Sleepingbags/blankets are recommended and designated areas for sleeping will be provided and supervised. One adult parent is required to stay the night along with our Coaching Staff.
Free Flow Academy also hosts Soccer Parties, Sport team parties, End of season events, all are welcome for the same treatment!
To reserve your event, please click the link above, or contact us at freeflowacademy@gmail.com.
Please Click Here to pay the $50 deposit for your event.
You can sign the Free Flow Academy Waiver online HERE or click here to download the printable version.
1106 Tinker Rd #150 Rocklin CA 95665 ~ 916.759.1468
CLOSURE DATES: Every 29th, 30th & 31st
(c) www.freeflowacademy.com